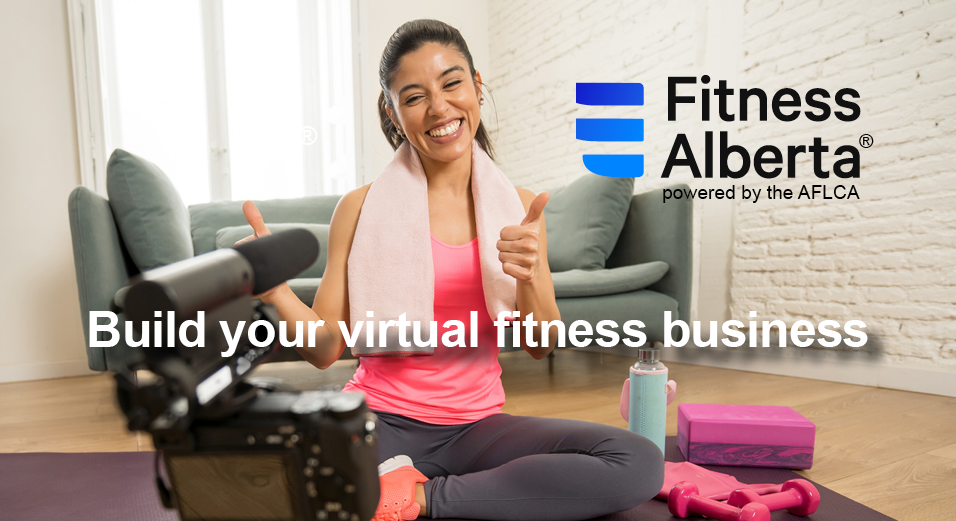 Build your virtual fitness business
Details
Details
Presenters: Jessica Power Cyr 
Date & Time: September 14, 2022 6-9 pm
CECs: 3
$74.95 Fitness Alberta member pricing
This is a 3-hour online course hosted by Fitness Alberta®.  
This one-of-a-kind course was designed by Fitness Alberta® specifically for exercise professionals. Learn how to deliver powerful, engaging online classes and expand into new market spaces. Topics include:
Technical setup, options for lighting and microphones and what platforms to use.
How to cue and monitor your participants so they can engage safely and successfully online. 
Important information about insurance requirements for online classes, risk management. 
Creating a sense of community in your online classes.
Presenter bios:
Jessica Power Cyr 
Important Information: 
This will be a virtual live streamed presentation - join the meeting via your unique private zoom sent to your email. Please log in using the link a few minutes before the event start time. Please note if you join before then, your session may be timed out. The link will be included in an email sent from the AFLCA 12- 24 hours prior to the session. The subject line will be labelled with the name of the webinar. As well, you will receive further information about the webinar, facilitator and any portable equipment you may need to enhance your session.  
Fitness Alberta Course Host:
Zoom is the host for this webinar, you will receive a unique link via email for the session.  Please Click on the link which will place you in a waiting area until the Fitness Alberta host opens the session at the start time. If you wish to read or require more information on System Requirements, Joining a Meeting or for information if your Video /Camera Isn't Working, please visit the links included. 
Refunds and Cancelations:
No refunds after 24 hours of purchase. You can transfer to another session up to one week prior to its registration deadline. 
If you have questions, please email us at: info@aflca.ca
I understand that this is a live-streamed webinar hosted on Zoom.
I understand that there are no refunds for this product after 24 hours of purchase.
I understand that I will receive my link to this session 12-24 hours before the event.
Enter your Fitness Alberta® or NFLA certification number to receive member pricing
BACK TO LISTING