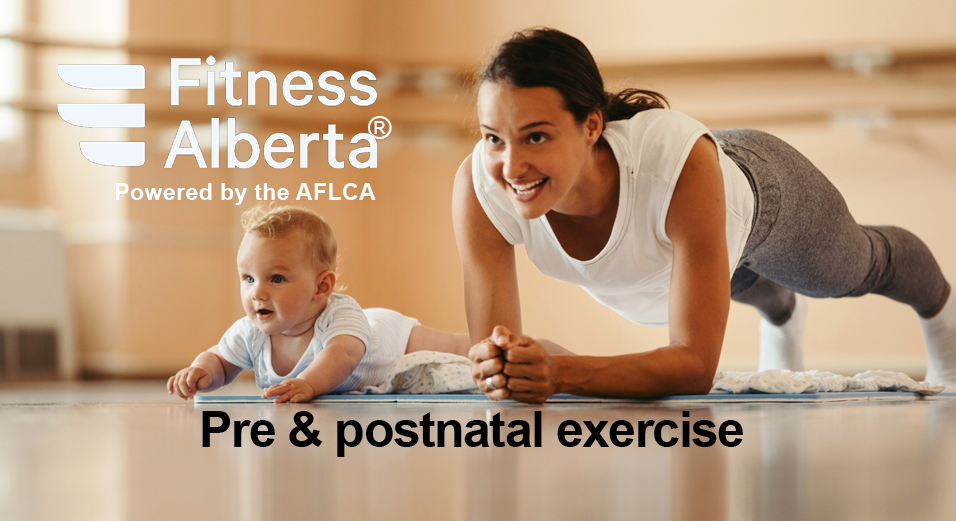 Pre postnatal exercise course
Details
Member price: $269.00
12 Fitness Alberta CECs
Pre postnatal exercise
Informed by the 2019 Canadian Guideline for Physical Activity throughout Pregnancy, the Pre & Postnatal Exercise certification course includes exercise considerations, contraindications, and foundational information to safely include pregnant and postnatal women in your personal training or group exercise classes. The Pre & Postnatal course includes land and aquatic-based components to ensure all training modalities are covered. We offer this course in person or online. Choose the course date and option that works best for you. 
This course is open to all interested fitness professionals. However, it is not a stand-alone certification course. To obtain Fitness Alberta® certification in pre & postnatal fitness, you must have current Fitness Alberta® Personal Training, Group, Resistance, or Aquatic Exercise certification.
Important Information
Attendance:
Full attendance is required to receive certification.
Refunds and Cancelations:
Cancellations must be received 10 days prior to the course start date. An administration fee of $50 will be withheld from your registration fee. No refunds within 9 days of the course start date.
For VIRTUAL sessions: 
Virtual sessions are live streamed. Join the meeting via your unique private zoom sent to your email. Please log in using the link 10-15 minutes before start time of the event. This link will be included in an email sent 12- 24 hours prior to the first session. Please note if you join before then, your session will be timed out (or may time out.) As well, you will receive further information about the course and facilitator. 
Fitness Alberta Course Host:
Zoom is the host for this course, you will receive a unique link via email for the session.  Please Click on the link which will place you in a waiting area until the Fitness Alberta host opens the session at the start time. If you wish to read or require more information on System Requirements, Joining a Meeting or for information if your Video /Camera Isn't Working, please visit the links included. 
I have reviewed the course details, including refund policies and agree to the terms.
I understand I cannot record virtual sessions or any part thereof.
I understand that the virtual live-streamed session requires I join the meeting 15 minutes prior to start time.
I understand attendance in the full course is required to move forward with Fitness Alberta certification.
Fitness Alberta certification number
Please enter your certification number to receive member pricing.
BACK TO LISTING