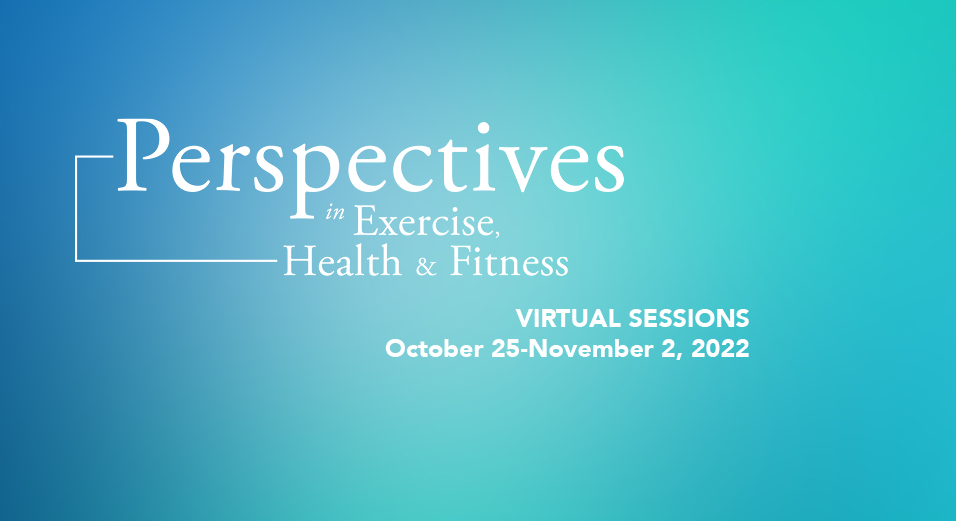 Perspectives in Exercise, Health and Fitness Virtual 2022
Category
Online Conference
Details
DATES: October 25 - November 2
Perspectives in Exercise Health and Fitness brings leading practice and science to exercise professionals. This year's virtual conference offers a range of thought-provoking, applied sessions from October 25 - November 2, 2022. 
Recordings are an additional option to purchase for the virtual conference. Recordings will be available from Nov 4 - 25. Recordings must be purchased with the conference purchase; no purchases after the conference will be allowed.
Discounts for the virtual conference available if you purchase the in-person conference too!  
Visit the conference website for session and presenter details, as well as CEC information. 
Virtual session information: 
These are virtual live-streamed sessions. Join each session via your unique private zoom link sent to your email. Please log in using the link a few minutes before the event start time. Please note if you join before then, your session may be timed out. 
The link to each session will be included in an email sent from the AFLCA/Zoom 12- 24 hours prior to the session. The subject line will be labelled with the name of the presentation. As well, you will receive further information about the session, facilitator and any equipment you may need to enhance your session.  
Fitness Alberta Session Host:
Zoom is the host for the virtual conference. You will receive a unique link via email for each session.  Please Click on the link which will place you in a waiting area until the Fitness Alberta host opens the session at the start time. If you wish to read or require more information on System Requirements, Joining a Meeting or for information if your Video /Camera Isn't Working, please visit the links included. 
CEC Information:
Fitness Alberta Leaders - Both In person and/or virtual conferences will be full credits towards recertification
Fitness Alberta Certified Personal Fitness Trainers - 12 CECs for each in person and virtual conference (Full credits towards recertification if both conferences are attended)
CSEP members - up to 14.5 PDCs as per the PDC chart - W series. 
ACSM - we are an approved continuing education provider - Providership #782153
Deadline to register: October 24, 2022
Refunds and Cancelations
Full refunds are available up to 24 hours after purchase in writing to info@aflca.ca. Refunds 24 hours after purchase to October 23, 2022 will be subject to a $50 cancellation fee.
No refunds will be issued after October 23, 2022. If you have questions, please email us at: info@aflca.ca.
I understand that the virtual event is a series of live-streamed sessions, hosted on Zoom. Sessions take place at the time stated on the conference website.
I understand that I will receive my link to each session 12-24 hours before the event.
I understand that the recordings are not included and are an extra cost of $19.95. I understand recordings will be available from Nov 4 - 25, and recordings must be purchased with the conference purchase; no purchases after the conference will be allowed.
Enter your email address
Please enter your email address, so we can contact you with session links and details. *please ensure your email is spelled correctly, as this may prevent your links being sent to you.
Enter your name
Please enter your name so we can contact you with conference details and session links.
BACK TO LISTING