The Alberta fitness industry has gone through a culture-shifting, industry-bending evolution since 2020.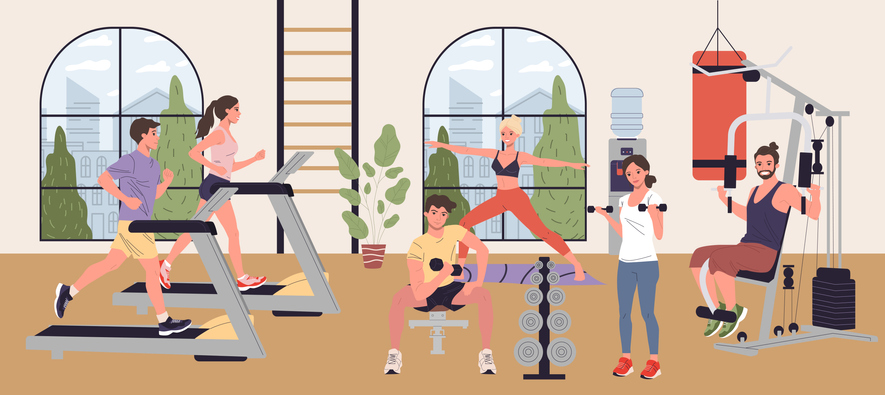 The Alberta fitness industry has gone through a culture-shifting, industry-bending evolution since 2020. In 2019, Statistics Canada numbers show that Alberta's fitness industry brought in $659.6M to the Alberta economy. In 2021, the industry brought in $484.5M. This is in line with the Canadian industry overall which due to the lockdowns and closures went from $4.5B in 2019 to $3.049B in 2021.
The good news
Despite continued shutdowns and closures and the lingering uncertainty of COVID, the Alberta industry was out of the red in 2021. Canada's fitness industry overall operated at a 1.7% loss in 2021. Alberta in the same period operated at a .5% profit.
A report prepared by the Fitness Industry Council of Canada on the impact of the fitness industry states that:
Economically, in 2021 the fitness industry in Canada had a direct value added of US $1.7 billion and supported an indirect value added of US $1.4 billion to our economy
The Canadian fitness industry directly supports 83,200 jobs and indirectly supports an additional 20,800 jobs
We won't have Canadian business statistics until November 2023 for 2022, but predictions are that the Canadian fitness industry will rebound to 3.8% growth in 2022, and to its pre-pandemic growth rate of 7% year-over-year until 2028.  Momentum is building. It's a great time to take advantages of the opportunities in our industry.
Why are we expected to recover and grow?
Prior to the pandemic awareness about the importance of fitness and exercise was growing. The pandemic drove the message home and then some. Industry statistics report that in 2019, over 2.2 million cases of health conditions were prevented as a direct result of sport and physical activity - including over 600,000 cases each of heart disease, Type 2 diabetes and depression. From our immune systems, and bone health, to the myelin sheathing our nervous system, exercise is medicine. Added to that is the huge role that fitness classes and gyms play in community building, mental and social well-being. Clubs, gyms, and recreation centres were missed for far more than just loss of muscle mass and looking a particular way.
Industry trends to be aware of
Consumer trends and expectations have changed. Cultural shifts and attitudes about fitness and exercise have evolved over the last decade. We are finally aware that all bodies deserve access to safe, effective exercise. The World Health Organization, in its plan, "More Active People for a Healthier World," recognizes that active recreation is an important economic and social driver, and a key element to create a more equitable, sustainable world.
Seniors
The impact of fitness on the quality of life of seniors can't be overestimated. Seniors are a growing demographic—the number of seniors in Alberta is estimated to more than double over the next 20 years.  Many seniors have disposable income and something other demographics do not: an abundance of time. They are seeking social connection and the sense of physical and mental well-being that fitness offers.
Millennials
Millennials are another important demographic to our industry. Like most Canadians, they are educated, and their health and fitness is part of their cultural identity. Millennials use fitness clubs and activities for social connection as much as for their physical health. Highly aware, highly technical, they also are impacted by the current rise in the cost of living. Their health is a priority for them, but so is the bottom line. Group classes, hybrid class offerings of online, in-person, interconnectivity with apps and innovative twists on fitness are what they are after.     
Home fitness equipment
Home gyms are here to stay. But, these are an opportunity as well. People have the "stuff" but not the know-how. Expertise is needed to help people use their home gym rather than let the equipment gather dust. We can connect in people's homes online and through apps, and we can tailor classes and personal training sessions to support people's use of their home gyms and personal fitness apps.
Technology
The pandemic taught us how to get online and use technology. It also gave us access to a whole sector of people who, for many reasons, do not go to gyms in person. It's expected that the online fitness percentage of the market will grow by 66% over the same period as in-person fitness centres will grow by 7-8%. This is an opportunity for us in all ways.
Opportunities to consider
Seniors or millennial targeted fitness and exercise classes and personal training
Online and hybrid fitness classes, and integration with apps
Small group fitness to promote community and to offset the cost of personal training
Innovative class combinations and settings
FAB looking ahead
We have seen a huge evolution in our industry over the last 40 years. As we rebound from the pandemic, Fitness Alberta is looking forward to providing more access to education and certification in Alberta and Canada.
We continue to work with ICREPs, and the international community to provide a worldwide benchmarked standard for the certification of fitness professionals.
We are continuing to review our own standards and processes for certification so that they continue to be up-to-date, accessible and aligned with what the industry demands of us.